6 mins read
Optimize migration to SAP S/4HANA with SAP Archiving
SAP has announced it will end support for SAP ECC 6 by 2027, so migrating to the SAP S/4HANA platform is essential. Data archiving can help optimize and right-size your SAP ECC for SAP S/4HANA migration.
SAP's new enterprise resource planning (ERP) solution, SAP S/4HANA, brings many enhanced features and faster computing capabilities. SAP S/4HANA uses the robust in-memory SAP database HANA. It is considered the digital core for connecting enterprises with people, business networks, the Internet of things (IoT), and big data. It also enables organizations to make business decisions informed by real-time insights, machine learning, IoT scenarios, and predictive computing. It also allows for a more comprehensive array of deployment options, including on-premises, public cloud, private cloud, hosted cloud, and hybrid environments.
As SAP has announced it will end support for ECC 6 by 2027, businesses should begin their migration journey to SAP S/4HANA. Let's look at how data archiving can help accelerate and optimize this process.
Challenges with SAP S/4HANA Migration
Migrating to SAP S/4HANA is no simple feat. So, consider the cost, complexities, and time demands to run as clean a migration as possible.
The complexity of data in your old / existing SAP system can pose a challenge for your SAP S/4HANA migration. Typically SAP systems hold sprawling resources, with millions of records. Comprehensive, accurate data transfer of all this data without compromising the data integrity is essential to the migration. So, migrating massive amounts of old data to a cloud service like SAP S/4HANA can prove to be tricky. Additionally, the SAP S/4HANA runs on the expensive in-memory database HANA, which can be very expensive to manage with large volumes of data.
Another crucial aspect of ERP systems such as SAP is that you'll find structured data in standard and custom tables in all installed languages and clients. Attachments are also stored in the tables and external file systems. You should archive all this data to ensure a complete data capture as part of the migration. (Note that some of the data may lie in SAP's proprietary ADK file formats; it's essential to be comprehensive in your approach to migration.)
Additionally, many companies consider migration an opportunity to consolidate disparate SAP systems inherited from mergers and acquisitions or technology modernization. This can result in a multi-fold increase in data volumes to migrate and data quality issues to resolve.
Here are some migration challenges associated with data volume and complexity you should consider:
Costlier migrations, as redundant data, must be transferred and stored in the expensive SAP S/4HANA system
Increased complexity due to various data intricacies, storage systems, data formats, and quality issues for which migration could have been avoided
Longer migrations because of the magnitude of data needed to migrate and verify
Increase in TCO of SAP S/4HANA owing to large volumes of historical data
Continued compliance challenges and data access issues carried forward from the old system to the new one
Why Is Data Archiving considered a Best Practice for SAP S/4HANA Migration?
When migrating to S/4HANA, enterprises need to consider the years of data accumulated via transaction processing, the acquisition or divesting of business units, and the challenges of managing ever-growing large databases. A lack of strategy to handle this data beforehand could derail SAP S/4HANA migration and make the total cost of ownership (TCO) unaffordable.
That's why data archiving is so critical to migration. Archiving less frequently accessed or redundant information can help you faithfully preserve the historical enterprise data for compliance and reporting without blowing up the TCO of the new SAP S/4HANA system.
Data archiving before migration can help offload historical data from primary and legacy SAP instances into an accessible archive repository. Post-archiving, a smaller data footprint will need to be migrated, reducing the cost of expensive HANA storage and licensing, along with the time, complexity, and resources needed to migrate data—and the associated data quality risks. Overall, archiving makes migration quicker, more efficient, and more cost-effective.
An important consideration during this optimization is continued access to archived data for reporting and compliance reasons. Unlike backups, archiving keeps the data online and accessible for reporting and compliance.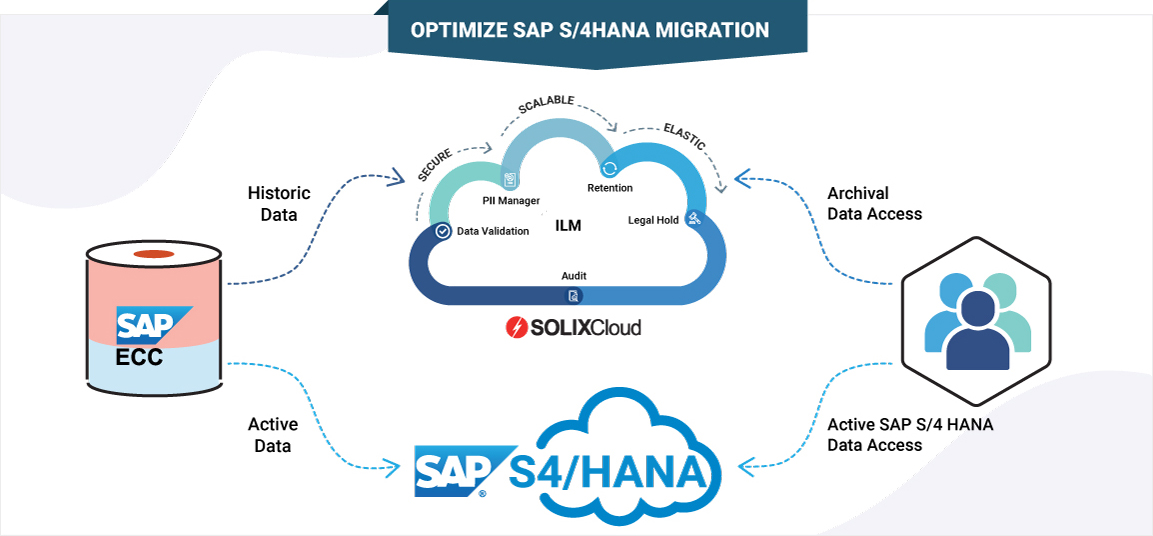 SOLIXCloud Enterprise Archiving for SAP
SAP S/4HANA migration is inevitable, but it can be challenging and expensive without a proper data strategy. Ensuring you make it through the migration with all your data intact and functional is mission-critical. So, you must rely on the right technology partner to help establish the right data strategy.
With SOLIXCloud Enterprise Archiving for SAP, an SAP Netweaver-certified solution, customers can expect to safely implement policy-based ILM for their complete SAP ecosystem, pre and post-migration. This enables an optimized and efficient migration to SAP S/4HANA and establishes a solution to manage future data growth in the new system—all while ensuring continued access to archived data for reporting, compliance, and analytical needs. The comprehensive policy-based governance and compliance capabilities help meet data retention, legal and data privacy, and security requirements throughout the data lifecycle.
Additionally, with SOLIXCloud, organizations get the unique advantage of establishing a unified yet heterogeneous enterprise archiving platform that supports both SAP and non-SAP systems and structured and unstructured data. SOLIXCloud's multi-cloud capabilities with a petabyte-scale repository and low-cost, pay-as-you-go model can fit right into every organization's strategic enterprise IT initiatives.
Are you ready to start your migration to SAP S/4HANA? Reach out today for a detailed overview and demo of how Solix can help.