Solix Technologies Inc., has been named "Visionary" in Gartner® Magic Quadrant™ for Enterprise Information Archiving. We believe this positioning by Gartner reflects Solix's ability to deliver on its vision of an all encompassing enterprise information archiving solution supporting structured, semi-structured and unstructured data.
The recognition comes at a time when SOLIXCloud is experiencing strong customer momentum including enterprise wide adoption at leading Fortune 500 companies in the healthcare, financial services, manufacturing and retail sectors.
SOLIXCloud Enterprise Archiving is a suite of applications designed to manage historical data which includes SOLIXCloud Database Archiving, SOLIXCloud Application Retirement, SOLIXCloud File Archiving and SOLIXCloud Email Archiving. The applications are built on the Solix Common Data Platform, a cloud data management solution framework first released in 2016.
SOLIXCloud Enterprise Archiving is the only EIA solution in the market providing a centralized and compliant archive for all types of enterprise data. Solix today has become a strategic data management partner for companies across industries and geographies.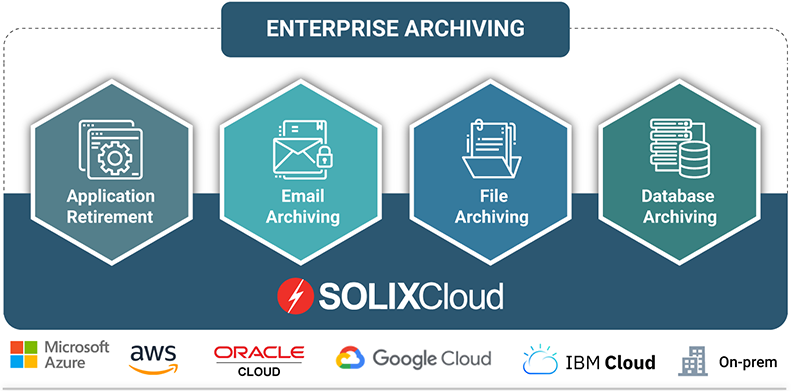 Top 5 reasons for the strong customer momentum
Centralized archive for all types of enterprise data
Application intelligence and accelerators across ERPs and CRMs
Advanced governance capabilities including support for various data privacy regulations
Multi-cloud fully managed SaaS offering
High ROI & low TCO with pay-as-you-go pricing
Solix Technologies has been recognized as a Visionary for our ability to execute and completeness of vision.
Solix Common Data Platform's Enterprise Archiving capability enables archiving of a variety of digital communication and user/application generated data. The solution can be deployed on-premises, public cloud and also as a SaaS environment running on Microsoft Azure and AWS.
Gartner® also noted particular capabilities in the Solix solution including:
A multi-cloud and a fully managed SaaS offering
Ability to provide a unified archive for a variety of data sources
Enhanced security integrating with identity access management (IAM)
Enhanced data validations ensuring the integrity of data movement
Consumer Data Privacy capabilities reflecting GDPR, CCPA and other new regulations.